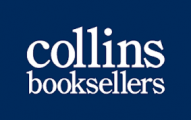 Collins Booksellers is Griffith's only locally owned and operated bookstore, stocking a huge variety of books, toys and gifts for the whole family.
Collins Booksellers commenced operations in 1922 as a newsagency at 622 Collins Street Melbourne under the direction of Frederick Henry (Harry) Slamen. It now comprises over 30 stores nationwide and continues to grow and expand. All Collins Booksellers stores are Australian owned and locally operated.

Collins Booksellers is proud of its Australian heritage, and the growth & expansion achieved during 90 years of trading since the first doors opened in 1922. You can read the full story of Collins Booksellers on our website: www.collinsbooks.com.au
Collins Booksellers is Griffith's only local book shop with a huge range of books, toys and gifts for all the family. We stock all the best new titles and have a fantastic special order service for anything not in stock so if you think it might be hard to get - think again and just ask us. Our fabulous range of plush toys, unique gifts for all ages and games, puzzles and toys will also delight.

So let your mind wander at Collins Booksellers in Griffin Plaza.
Trading Hours
Mon 09:00 - 17:30
Tue 09:00 - 17:30
Wed 09:00 - 17:30
Thu 09:00 - 17:30
Fri 09:00 - 17:30
Sat 09:00 - 16:00
Sun Closed